Catalogue: Section 7: Environmental Controls
Meters
There are several meters available on the market. The meters listed have been specially selected because of their reliability.
When using NFT, Flood And Drain and Rockwool slab culture, growers can control and manage the pH and strength (conductivity or CF) of the nutrients and ensure fast growth rates and greater yields.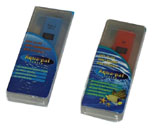 Pocket type meter. Accurate to +/- 0.2 pH. These are very reliable pocket type meters. All pH meters, including the ETI pH meter are delicate and should be handled with care. Meters are tested at the shop at time of purchase, and come with a 90 day warranty. Ph meters should last from six months to a year.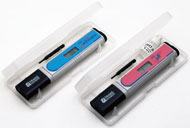 Fully waterproof pocket type meter. Accurate to +/- 0.2 pH. These are reliable pocket type meters. All pH meters, are delicate and should be handled with care. Meters are tested at the shop at time of purchase, and come with a 90 day warranty. These meters should last up to a year.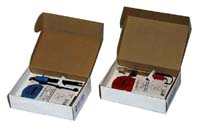 On line monitoring system that uses a probe in your tank for constant reading. The unit is temperate compensated. Accuracy of +/-2% at room temperature (25°C). The LED flashes when the pH or CF is not within acceptable parameters. Less calibration is required compared to standard meters, as the probe is constantly submerged during use.

These CF and pH meters are extremely robust and of a high calibre and come highly recommended. These conductivity (CF) meters and pH meters are used for testing the strength of nutrient solutions. These high quality instruments are designed to withstand the rigours of any growing environment. Both meters feature automatic on / off and automatic temperature control and is accurate to +/- 0.1. These meters require no calibration, come with battery and has a two year guarantee.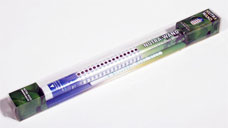 Give the NZ CF Truncheon a run for its money! Reliable, accurate and waterproof.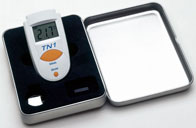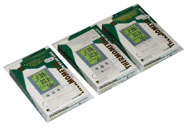 This instrument digitally monitors the min / max temperature and humidity of the growroom. It has an extrernal probe that can measure the min / max temperature of the water tank and has a built in clock.
MicroPonic System

This instrument automatically measures the CF of the nutrient reservior and will automatically add the correct amount of nutrient as and when it is required, thereby ensuring that the nutrient level is always at an optimum level for plant uptake.
Environmental Units
Vapourtek neutralises strong odours. However, it doesn't replace carbon filters in a growing environment, but can be useful in dealing with odours from adjoining rooms. There are two systems: one which uses a dry oil cartridge that releases into the atmosphere using a special fan which is housed in the Vapourtek systems. Each cartidge lasts at a minimum of 90-120 days before needing to be replaced. The small Vapourtek (round) is capable of servicing up to four lights and the large (cuboid) up to five lights and more. Each Vapourtek comes complete with a cartridge and is ready to plug in for immediate use.
The Silver Bullet Ozone Generator encourages plant growth. It also discourages insects but primilary dissolves odours. This is a tried and tested safe domestic appliance.
Cool and Warm Mist Humidifier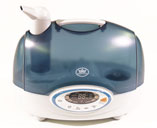 Cool and Warm Mist Humidifier. Automatic humidity control. Transparent water tank: 7 l. Easy maintenance. Alarm for water refilling& tank cleaning.

- Suitable for rooms up to 50 sq. m
- Cool and Warm Mist Humidifier
- Automatic humidity control
- Transparent water tank: 7 l
- Easy maintenance
- Alarm for water refilling& tank cleaning
- Spray control function
- Digital display
- Vibration prevention mechanism
- Safety lock
- Max spray: Cool mist : 400 cc/hr
- Warm mist : 550 cc/hr
- Air flow: 430 ml / hr
- Power: Cool mist 40W; Warm Mist: 140W
- Voltage: 220-240 V / 50 Hz
Oil Filled Radiators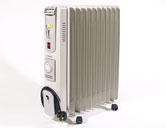 These thermostatically controlled radiators gently heat your grow room without the worry of stripping the environment of humidity or for that matter adding humidity. Will not dry out the plants or the atmosphere unlike fan or convection heaters currently available.

2kw - 9 radiator panel and 2.5kw - 11 radiator panel versions available with adjustable thermostat, 3 heat settings, power indicator, 24 hour timer built-in, castors, carry handle and overheat safety cut-out.
Vecton UV Steriliser - Destroys Pythium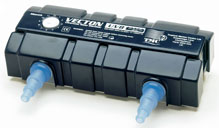 The use of Ultraviolet lamps to treat your hydroponic nutrient solution helps to control and can completely eliminate pythium where it has taken hold in a re-circulating hydroponic system. In a normal growing environment pythium tends not to occur however if it does occur it can decimate a crop in no time at all. To control and eradicate pythium from your system, simply connect the Vecton UV Steriliser to a pump and continuously pump your nutrient solution through this steriliser.
It is recommended that you also use UV balance as the steriliser can nock out some delicate food chains in your nutrient solution this is specially formulated to correct any potential imbalances that may occur from using a UV steriliser. The lamps in these units should be changed every 5-7 months. Full instructions included.
Ozoniser Water

Steriliser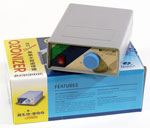 The sterilisation of ozone is 1.5 to 5 times greater than ultra violet light, three hundred to three thousand times faster than chlorine related products.

This ozonizer can produce a high standard of sanitary disinfection. The ozonizer has the function of killing germs, viruses, parasites and microbes. In addition, it brightens water, keeps it fresh, removes odours, colours and resolves poisonous harmful chemicals. The ozoniser is specifically curative for pythium (rot root), fungus gnat larvae, any tank dwelling pests, fungi, viruses and many other infections and diseases.

Two versions available:

Standard: Output 100 mg/h power consumption 7w.
Recommended airflow rate through the ozonizer 5 litres per minute. The ozonizer will treat up to 500 gallons at 1mg per 5 gallons.

Commercial: Output 2000 mg/h power consumption 60w.
Built-in air pump delivering 15 litres per minute. The ozonizer will treat up to 10,000 gallons at 1mg per 5 gallons.
Water Chillers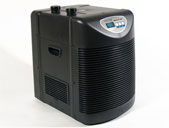 Warm water becomes the definitive breeding ground for pythium (rot root), fungus gnat larvae, any tank dwelling pests, fungi, viruses and many other infections and diseases. Warm water also dramatically reduces oxygen content able to be carried in the water, ie the warmer the water, the less oxygen content in the water no matter if you are air infusing or dosing with h202; if the water is warm then you have no oxygen in it! Thereby, prohibiting the plants' ability to perform. These nutrient solution chillers will maintain the correct optimum temperatures no matter how warm your tank currently gets.

Two versions available:

300: Will treat up to 300 litres tank volume. Flow rate 500-2000 litres per hour. 320w.

500: Will treat up to 500 litres tank volume. Flow rate 1200-3000 litres per hour. 480w.
Osmosis
In some parts of the UK, water quality is poor so it can be difficult to obtain optimum results expected from hydroponics. Reverse Osmosis (RO) is the answer. This is a water purifier which removes all unwanted residues and particles from your water - thereby giving the grower better quality water. These need to be ordered in advance so the exact model best suited to the type of water in the grower's area is supplied. However, chances are that most growers won't require one. If you are in any way unsure, please contact us, so that we can advise and order a unit for you.
One of the most common and serious problems experienced by growers is hydroponic lighting timer failures. Household timers purchased from major manufacturers are simply not designed to handle the (inductive) power loads of hydroponic lighting. Contactor relays are the answer. You can still use the standard timer, but power is routed through the contactor relay and not the timer. Alternatively, we also offer relays that have built in timers. Timers will switch on your contactor and lights as and when required.
They are simple to use, as well as being very reliable. There's no wiring, just plug it in. Each contactor can handle up to 3 × 400W, 2 × 600W or 1 × 1000W lights. Four gang heavy duty timer contactors are also available which will switch up to 4 × 400W, 4 × 600W or 2 × 1000W lights. All timer contactors that we offer are sealed to IP65 rating ie, completely waterproof even when totally submerged in water.
Please note that some lighting ballasts have combined timers.
Heavy Duty 4 Gang 4 Metre Extension Lead

Four socket 4 metre extension lead with power neon light. Heavy duty thermoplastic rubber socket. Manufactured to BS 1363/A. Cable manufactured to BS 6500. 240V 13A.
Water And Air Pumps
Air pumps aerate your system and enable faster growth. Esoteric Hydroponics offer air pumps that are silent and reliable. We also stock a large range of heat extraction fans, filters and ducting. There is a HydroGarden DataSheet for MaxiJet Pumps.
Hailea Super Silent Metal Air Pumps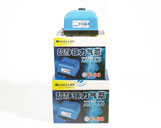 Super silent yet super powerful. Go on, treat your plant, you know they deserve it :)
Jun Super Silent Metal Air Pumps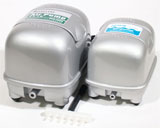 Super silent yet super powerful. Go on, treat your plant, you know they deserve it :)
Heavy Duty Air Compressors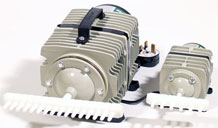 They don't come any more powerful than this! Supercharge your system with these and your plants will be very pleased with you in more ways than one :)
Ario Aerator Aeration System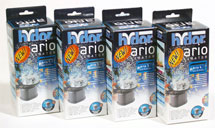 Supercharge you reservoir with one of these super silent, super powerful no maintenance aerators pumps. No air stones or tubing required. Oxygenation at its best.
Round Ring Air Stones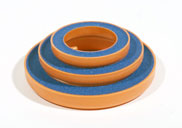 Diffuses air over a greater surface area with these as used in our Super Charged Turbo Aerator systems.
Silicone Air Line Pipe
For joining the air pumps to the air stones.
Oxydator

The Oxydator produces oxygen through a specially developed ceramic catalyst in combination with H2O2 delivering 100% normal and activated oxygen in micro bubbles throughout your water tank. These oxygen bubbles detoxify any harmful particles keeping your tank clean, healthy and free from harmful pathogens, bacteria and cloudy residues. Supplied with H2O2.
Dripper System Components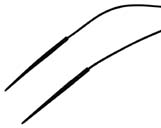 Make your own high pressure dripper systems. Intended to be used with the high pressure water pump (product code E44) and rockwool slabs.
Water Heaters
It is important to maintain the temperature of nutrient solution between 20-24°C as this will ensure better growth rates and is particularly important during the colder season.
Autonomous Environmental Control Systems
Fan Controllers
The Sunbeam fan controller switches fans on when the room is too hot and switches fans off when the room is too cold. Intended for use with a simple inlet or extraction fan. Temperature is set with the single rotary dial.
The Prima Controller - combined fan speed controller and thermostat which controls exhaust and intake fans. This can be wired to fans, program your requirements and it will do the rest. The Prima Controller has three analogue dials:
one sets the best temperature for the controller to maintain.
one dial sets the minimum airflow for the inlet fan.
one dial sets the minimum airflow the outlet fan.
This ensures continuous air flow, regardless of temperature differences. Further information is available from the DataSheet.
Ecotechnics Temperature Control Unit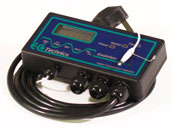 Temperature is one of the most important environmental factors in your grow room / glasshouse all plants have an optimum temperature at which they will grow at and a minimum and maximum temperature that they can survive therefore temperature is very important to the health & growth rate of all plants.
The Evolution digital temperature control System constantly monitors the temperature in the growing area and independently controls fans, heaters and humidity in order to optimise conditions for plant growth.
Plants grown in optimised environments grow much faster and bigger resulting in increased yields and decreased crop cycle times.
This Controller can be used in conjunction with the new Evolution Carbon Dioxide controller.
Combined Environment Controllers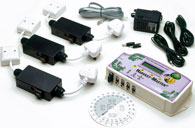 Harvest-Master 'Climate' Controller

I take the guesswork out of growing your plants and turning them into a crop. Just plug me in! I check what you have connected and how it works. You
hardly need to open the manual. I learn about everything, and keep on
learning about "atmosphere"; temperature, humidity and climate changes
minute by minute, day after day! That's my job!

An all in one environmental controller. It features a thermostatic fan controller, a humidistat fan controller, a thermostatic heat controller and a CO2 monitor and injector. In short, you can control CO2, inlet and extraction fans, and heaters.
The Shiva Controller is the ultimate in growing environment control and provides the indoor gardener with an easy to use and complete atmospheric solution by combining extraction and precise CO2 dosing. This is controlled by an infra-red monitor which is easy to install and operate. It even has a computer interface which enables the grower to customise and record environmental activity, and can even be controlled via the Internet. This system requires bottled CO2 (not supplied). To find out more, please visit for a full demonstration. An information sheet is available.