The completely environmentally sound solution to unwanted pests. Simply scatter the preditor bugs on plants then wait a week or two. Once all pests have been consumed, the preditor bugs die, leaving disease free plants. No toxins, no pollutants, no CFCs, no damaged crops, no hassle, no problem.

Pest Off, Fungus Gnat Off, Bud Rot Stop, Neem Repel, and Nite Nite Spider Mite.
Pest Off is made from only natural products, a safe non-toxic means to eliminate a variety of insects. Works by suffocating the enemy via blocking its ability to breathe. Effective against White Fly, Red Spider Mite, Two Spotted Mite, Thrips, Mealy bug, Scale, Adult Leaf Miners, Leaf Hoppers and Aphids (Green and Black Fly).

Neem Repel is used for assisting control of Black Spot, Rust, Scab, Powdery Mildew, Leaf Spot, Blight, Downy Mildew, and Botrytis. This stuff is effective against many pests.

Fungus Gnat Off is 100% natural organic concentrate. Fungus Gnats or Black Fly lay their larvae in the rootzone of your plants, these larvae then burrow into the rootball to feed, carrying with them infections and bacteria which multiply in the rootzone, breeding disease. This stuff works by killing the larvae in the rootzone thus eradicating the problem.

Bud Rot Stop stops bud rot (botrytis) in its tracks. 100 % organic; works via prematurely maturing the botrytis spores so they can no longer breed.

Nite Nite Spider Mite is 100% organic and stops spider mites in their tracks, works similarly to Pest Off via suffocating the adults to halt the increase in population.

BioBizz BuzzOff!
BuzzOff is a liquid biological insect repellent with a special formula based on 100% natural ingredients. BuzzOff keeps away sucking and feeding insects such as spider mites, aphids, and whitefly. Direct contact insecticide can be used every other day with no detrimental effect on your plants. Keeps any infestation under control.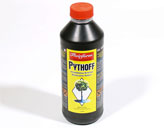 Pythoff
Does what it says! A very effective control tool of root rot (pythium) works via sterilisation of you nutrient solution and is non-toxic to your plants.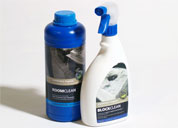 Room Clean and Block Clean
These two products do what they say, both are organic and non toxic. Room Clear will disinfect your grow room to keep it free from fungi and bacteria, and can be used even if your plants are still in your room without concern. Block clean destroys algae build-up on rockwool blocks. Although the algae does not pose a threat to your plants, it can become a breeding ground of other pathogens, which can.

Biosept Hydro Gold
Biosept Hydro Gold helps plants defend themselves from fungal and bacterial diseases such as grey mould, stem rot and pythium. Works on contact to build and enhance the plants' own immune systems.
Airborne insects are attracted to ultraviolet [UV] light. UV light placed behind an electrified grid can be used to attract and electricute flying insects. Such traps are usually a requirement in food preparation establishments such as butchers, for hygine. They are also found at holiday resorts and commercial green houses to reduce pests. A domestic scale bug killer is available for general use.