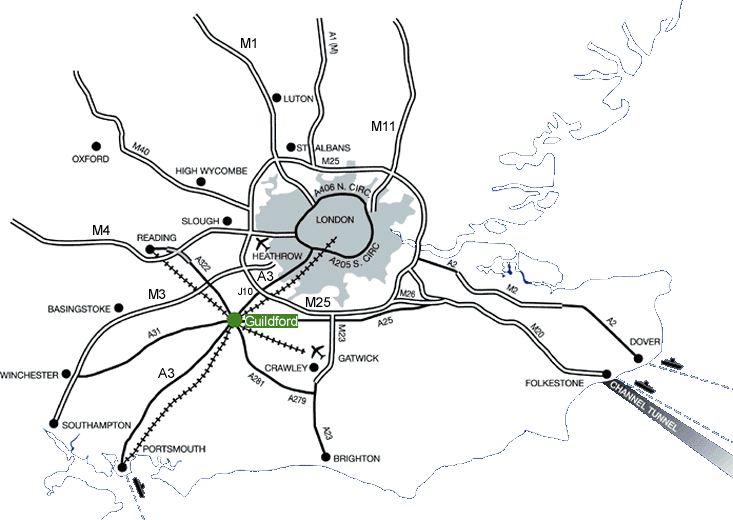 Directions By Road
Directions From London
Take the M25 junction 10, head South on the A3 for 10 miles, towards Portsmouth. Pass the small lake just past the junction. Do not take the Merrow exit to Guildford. Guildford Cathedral should be visible ahead of you before you leave the A3. Continue to the next exit for "Spectrum Leisure Centre". Turn left at the first traffic light junction onto A320 and onto the large traffic light junction (Stoke Road Junction). Continue straight ahead, along Stoke Road, towards Guildford town centre, approximately one mile away.
Pass Guildford College on the left. Continue straight ahead past the two mini roundabouts outside the college. Continue straight ahead past T junction traffic lights and under the railway bridge. Continue past King's Head Pub on left and Finnigan's Wake Pub on right (or maybe not). Pass pedestrian crossing traffic lights. Arrive at the Stoke Road / York Road traffic light junction. Turn left for York Road Car Park or straight ahead for town centre and Martyr Road.
Directions from Portsmouth
Take the A3 North towards London. Pass Godalming, approximately five miles South of Guildford. Climb hill. Pass cutting. Do not take the Tesco Superstore / University Of Surrey / Guildford Cathedral exit. Continue through right bend to next exit. You are now at the Wooden Bridge Roundabout near the Wooden Bridge Pub. Take the second exit from the roundabout to the road called Ladymead. Pass under Railway Bridge, over River Bridge and approach Ladymead Retail Park. Burger King is ahead on the right. Continue straight ahead at first traffic light junction. Continue past petrol stations on both sides of the road and the fire station on the right. Approach Stoke Road Junction, as described above. Turn right into Stoke Road heading towards Guildford Town Centre.
York Road Car Park
Everyone parks near the top of York Road car park because it is easier to access the pedestrian exits from these levels. Take the pedestrian exit to town centre. Pass tennis courts and walk down slope to Chertsey Road. Turn left towards town centre, walk 20 yards and then turn right into Martyr Road. Esoteric Hydroponics is on the right.
Parking Outside Esoteric Hydroponics
Parking in Martyr Road is not recommended because you are likely to obtain a parking ticket from a traffic warden. Martyr Road runs parallel to North Street and in turn, the High Street. Although the High Street and North Street are commercial, Martyr Road is mostly residential. Being so close to town centre, Martyr Road has parking meters and resident parking permits. Traffic wardens do check more than once per day.
Most residents park their cars on the opposite side of the road to Esoteric Hydroponics, although parking on the same side of the road as Esoteric Hydroponics is briefly permitted for the purpose of loading and unloading. Please lodge an Esoteric leaflet (available in shop) in your car window to reduce chance of receiving a parking ticket. Alternatively, park in York Road Car Park. We strongly recommend that you park your car in York Road Car Park when purchasing and return with your car to collect your goods.
Directions From Train Station
Take train to Guildford Train Station. Follow directions to town centre. Ask directions to the library, the Royal Bank of Scotland or Pizza Hut. All three of these landmarks are uphill, near the top of North Street. Martyr Road runs parallel to North Street and is on your left. Martyr Road is shorter than North Street, so is only accessible from the top of North Street.
Alternatively, take the train to London Road Station. Take main exit through station car park to York Road (not London Road). Turn right, walk 400 metres, passing York Road Car Park on your left, to traffic lights. Turn left and walk uphill 100 metres towards town centre. Martyr Road is on your right. Esoteric Hydroponics is 30 metres along on the right.