HomePage | Faq | Manual | Catalogue | Product Search | Contact Us | Find Us | Order Form | Gallery | Java | Music | Site Search | Affiliates | Site Map | Links
Catalogue: Kits | Systems | Lights | Nutrients | Grow Media | Fans & Filters | CO2 Release Systems | Environmental Controls | Miscellaneous | Pest Control | Literature
Catalogue: Section 8: Miscellaneous
Reflective Sheeting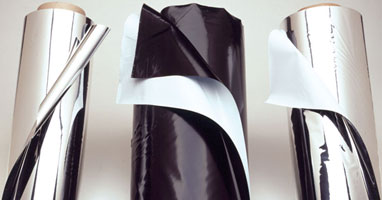 Light is precious and you will want to maximise usable light from your grow lights. One excellent way of doing this is to use reflective sheeting. As a rule of thumb, use reflective sheeting wherever you can. Any investment in reflective sheeting allows stray light to be redirected towards your plants. This is especially important in a small grow room. Plant growth is nearly linear with light intensity and installation of reflective sheeting will increase the light intensity. Additionally, increasing the efficiency of your hydroponic system will save money in the long term. In some cases, it may also reduce initial costs. Many people over estimate the effectiveness of aluminium foil in reflecting light. Mylar will reflect back over 95% light. Our new, space age reflector agro mylar reflects 97% light. We also offer a long life mylar, which is flame retardant and is backed with a white plastic for durability and to prevent any creasing. Our black / white sheeting is thicker grade than can be found elsewhere for durability and longer life. Black / white is sold in two metre widths and in any length. Mylar is sold in 1.4 metre widths and any length.
Yo Yo Bud Supports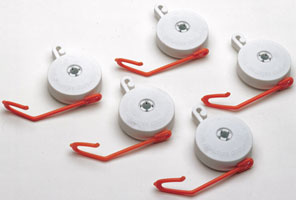 For use with heavy yielding plants.
Plant Support System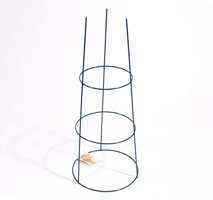 An excellent support system for heavy yielding plants. Put these in place when your plants are young. Use in conjunction with Yo Yo Bud Supports for maximum support.
Microscopes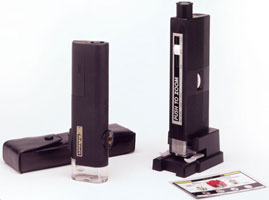 Investigate and eliminate a variety of problems with a microscope. Ideal for identifying small pests, and checking small items.
Sharp Objects
Propagators
Propagators are used to provide a suitable environment to establish seeds and cuttings. There is a HydroGarden DataSheet for Fyba propagators.
The X-Stream Expandable Propagator
Propagator not big enough? Seedlings or clones hitting the top? Well you will never have this worry again as these beauties can be perpetually expanded to accommodate even the tallest of plants.
Big Three Heated Propagator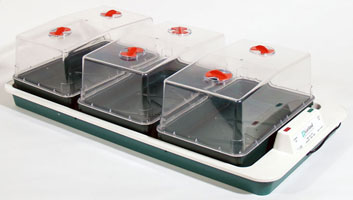 Compact Propagators with built-in thermostat that automatically maintains the propagators at the optimum temperature for your seedlings or clones.
X-Stream Aeroponic Propagators
Complete propagation kits available in two sizes: raise 36 or 105 seeds or clones effortlessly with these more than user friendly propagation systems. Compatible with most growing media, providing excellent water and nutrient delivery.
Ez-Clone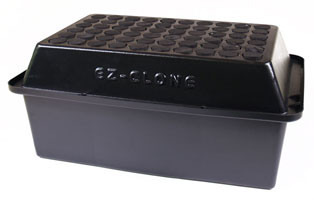 EZ-Clone currently offers three products to serve your cloning and rooting needs. A 30 site unit, 60 site unit, and a 120 site unit. All Units have the highest quality plastic parts available on the market including Danner Mag Drive pumps.
Cloning experts agree, the EZ-Clone cloning system is the simplest way to clone any type of plant. Simply take any number of cuttings from your donor plant and place them into the EZ-Clone cloning system. Once the unit is plugged in, the Patent Pending aeroponic system will take care of the rest. EZ-Clone's nearly hands free system allows you to focus on other things while your clones are busy sprouting massive root structures starting in as little as five days with 100% results.
Sprayers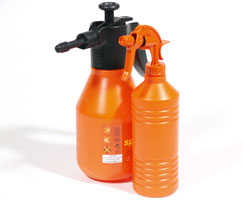 Hand held sprayers with 1 or 2 litre capacities. These high quality sprayers are made from high impact plastic for long life and reliability.
Deluxe Pressure Sprayers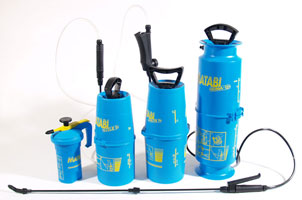 1 litre version has simple yet functional design with large filling mouth, level indicator, viton chamber closing valve with adjustable cone nozzle.

3.5 litre version has simple yet functional design with large filling mouth, fibreglass lance with adjustable cone nozzle, viton chamber closing valve.

5 litre version has simple yet functional design with large filling mouth, new lance, advanced design handle and safety catch with adjustable cone nozzle, viton chamber closing valve.

8.5 litre version has simple yet functional design with large filling mouth, fibreglass lance with adjustable cone nozzle, viton chamber closing valve, double strap system for backpack use.
Deluxe Super Agro Sprayers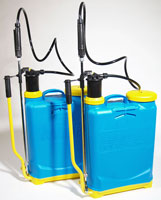 Sprayer not big enough? Arm ache? No pressure? You know it J that is why we have sourced the most reliable, the most user friendly and efficiently sized sprayers on the market. Features include; eccentric pressure chamber with built-in suction tube, manually dismountable ergonomic handle with viton seal, internal tank re-enforcing ribs, reversible carrying handles, and chrome plated brass lance and additional nozzle for herbicides.

Pipettes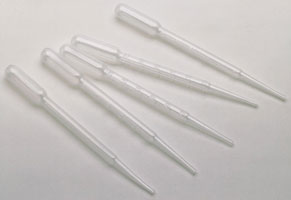 Measuring Jugs and Syringes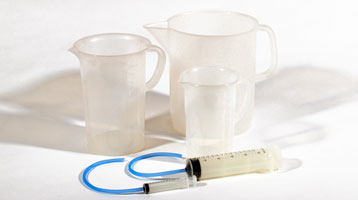 Had enough of spilling your containers of nutrients all over the shop! Well, with our specially adapted syringes, it will become a thing of the past :)
Duct Tape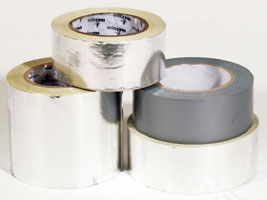 You wanted it so we got it in every variant available :)
Holistic Gadgetry
Essential Oils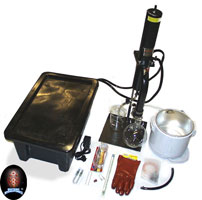 The use and value of essential oils is once again increasing. Plant alchemy is the ancient art of producing medicines, cures, condiments, dyes, perfumes, etc from various herbs and plants. Basically, the science of plant alchemy works by separation, purification and cohobation (re-still) of a substance until the required results are achieved. The Essential Oil Maker has the ability to extract by:
distillation by use of solvent (Soxhletting),
distillation by use of steam,
distillation by use of boiling water and
fractional distillation.
Deciding which method to use is dependent on the proposed base material and the required results. Instructions and recommended reading is provided with the Essential Oil Maker.
Alarms
Don't let your hard work go to waste: alarm your grow room. An alarm provides peace of mind, providing additional defence against having your nurtured plants and quality hydroponic equipment stolen. Don't be an easy target. Our top of the range, general purpose, self contained alarm consists of a lensed, passive infra-red [IR] detector, digital combination lock, siren and telephone dialer. Also included are two window / door sensors and a keychain remote control, similiar to car alarms. Please contact Esoteric Hydroponics for current specifications.
There is no need to read manuals, as the alarm comes complete with an instruction video to demonstrate installing and using the alarm. After setting the alarm with your combination, activity within the radius of the detector (110°, 10m) triggers the alarm. The audio alarm has a stealth mode and the alarm can be configured to telephone up to six numbers. This could for example be your office, your mobile, your pager, a friend and emeregency services. (Please note that we cannot be responisible for false alarms to emergency services. Secondly, unless this alarm is approved and installed by a registered alarm company, you may not be eligible for insurance discounts. Please consult a reputable alarm company for further details.)
The alarm can be configured to activate silently. In both modes of operation, the alarm attempts to telephone up to six telephone numbers and relay a pre-recorded message. It continues until at least three parties has been informed or 15 attempts have been made. IR alarms are not (usually) triggered by pets such as cats, dogs or reptiles. Positioning is key to preventing accidental alerts. Wall mount your alarm to prevent pets obscuring the sensor.
Automatic Fire Extinguishers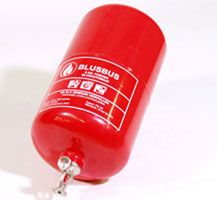 A automatic dry powder fire extinguisher designed to be fully automatic. The unit is a stored pressure type with a mixture of dry powder and nitrogen, as the fire reaches the temperature specified on the glass bulb it shatters allowing the dry powder to be released under pressure over a wide area.

- Fully refillable stored pressure extinguishers.
- Designed for use in enclosed places ie: engine/plant rooms, switchrooms etc
- Bracket included with extinguisher
- Supplied with 68 or 73 degrees celcius bulb as standard (other temperatures available on request)
- Powerful fire fighting capability e.g. 6kg ABC powder covers 25m2 and 10kg ABC powder covers 40m2
- AFFF foam units also available on request.
Dry and Clone Tents
The Dry and Clone Tents are purpose built horticultural grow rooms specially designed for indoor growing. These are easily assembled in less than 20 minutes without the need for any tools.
Grow Tents
The Grow Tents are purpose built horticultural grow rooms specially designed for indoor growing. These are easily assembled in less than 20 minutes without the need for any tools.
The Grow Tent is the ideal equipment for discreet and effective growing. The main advantages of the Grow Tent are its ease of use and diversity.
The tent is sturdy and robust constructed using a single piece of tear proof material which is waterproof, air-tight and light-tight. Simply pull over the frame and zip up and go!
The Big Mamma 2m x 2m x 2m Grow Tent; the largest grow tent yet!
Light-tight, robust, and waterproof - what more can you want? No tools needed and lots of vents provided for even the hottest lights
The Greenroom Grow Tent
Ideal for 2-Pod, 4-Pod or 8-Pod HydroPod™ Systems
The greenroom provides the essential requirements for every indoor horticultural grower.
The greenroom has been designed in conjunction with hydroponic experts and growers alike over a number of years to ensure it meets the needs of every enthusiastic grower.
The greenroom enables you to manipulate the growing environment so that you can achieve the optimum climate for your plants growth.
The greenroom takes up little space, (100 x 125 x 190 centimeters), so devoting a whole room to your plants is no longer necessary. Alternatively it provides a separate cultivating space within your existing growing room, for plants that are at differing stages of development.
Used together with a light and hydroponic equipment you can grow plants quickly with abundant yields all year round.
The greenroom is very simply to assemble, (10 minutes) and dismantle, (approximately 5 minutes). The only tool required is a philips screwdriver. The greenroom is designed to withstand being set up and taken down repeatedly.
The greenroom accommodates the most popular selling hydroponic equipment on the market.
The greenroom has been designed with hydroponics in mind, although it is totally suitable for soil based cultivation.
The Greenroom Grow Tent is also available as a starter kit.
---
HomePage | Faq | Manual | Catalogue | Product Search | Contact Us | Find Us | Order Form | Gallery | Java | Music | Site Search | Affiliates | Site Map | Links
Catalogue: Kits | Systems | Lights | Nutrients | Grow Media | Fans & Filters | CO2 Release Systems | Environmental Controls | Miscellaneous | Pest Control | Literature
Bringing Nature And Technology Together:
Esoteric Hydroponics
8 Martyr Road
Guildford
Surrey
England
UK
GU1 4LF
UK Telephone: 01483 596484
International Telephone: +44 1483 596484
UK Mobile: 07958 698152
Internatonal Mobile: +44 7958 698152
UK Fax: 01483 596490
International Fax: +44 1483 596490
Web: http://www.blunt.co.uk/
EMail: webmaster@blunt.co.uk