HomePage | Faq | Manual | Catalogue | Product Search | Contact Us | Find Us | Order Form | Gallery | Java | Music | Site Search | Affiliates | Site Map | Links
Catalogue: Kits | Systems | Lights | Nutrients | Grow Media | Fans & Filters | CO2 Release Systems | Environmental Controls | Miscellaneous | Pest Control | Literature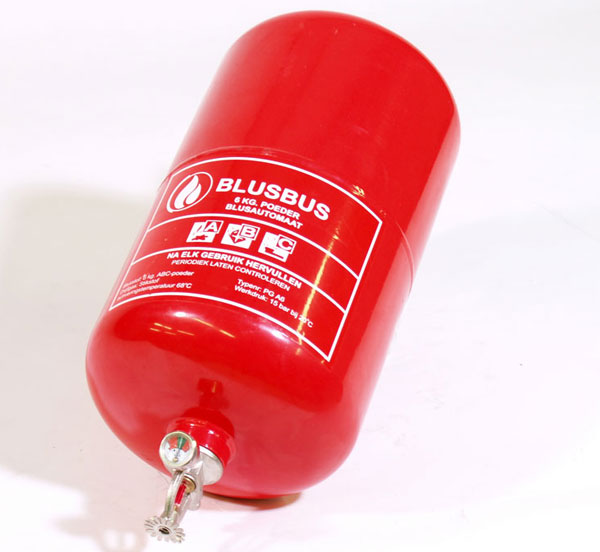 A automatic dry powder fire extinguisher designed to be fully automatic. The unit is a stored pressure type with a mixture of dry powder and nitrogen, as the fire reaches the temperature specified on the glass bulb it shatters allowing the dry powder to be released under pressure over a wide area.
- Fully refillable stored pressure extinguishers.
- Designed for use in enclosed places ie: engine/plant rooms, switchrooms etc
- Bracket included with extinguisher
- Supplied with 68 or 73 degrees celcius bulb as standard (other temperatures available on request)
- Powerful fire fighting capability e.g. 6kg ABC powder covers 25m2 and 10kg ABC powder covers 40m2
- AFFF foam units also available on request.
---
HomePage | Faq | Manual | Catalogue | Product Search | Contact Us | Find Us | Order Form | Gallery | Java | Music | Site Search | Affiliates | Site Map | Links
Catalogue: Kits | Systems | Lights | Nutrients | Grow Media | Fans & Filters | CO2 Release Systems | Environmental Controls | Miscellaneous | Pest Control | Literature
Bringing Nature And Technology Together:
Esoteric Hydroponics
8 Martyr Road
Guildford
Surrey
England
UK
GU1 4LF
UK Telephone: 01483 596484
International Telephone: +44 1483 596484
UK Mobile: 07958 698152
Internatonal Mobile: +44 7958 698152
UK Fax: 01483 596490
International Fax: +44 1483 596490
Web: http://www.blunt.co.uk/
EMail: webmaster@blunt.co.uk