Documents: Supplied By HydroGarden: Prima Fan Controller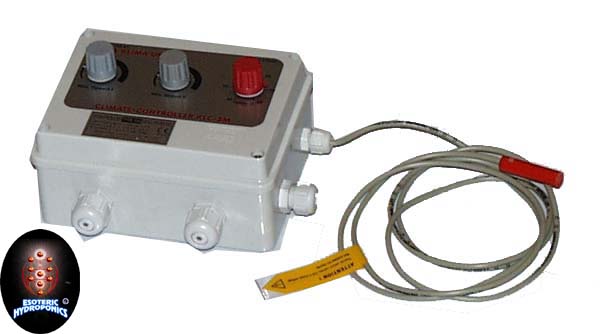 Product Description
The Prima Controller is an indoor climate controller, designed to be used with extraction & intake fans, it will maintain temperatures in an indoor growing environment through the use of a thermostat. The Prima Controller is also fitted with a speed control mechanism that will control the speed of two fans.
How Does It Work?
The Prima Controller works simply by wiring both your intake & outake fans into the unit (wiring instructions are supplied with the unit) & setting the desired temperature. Once the fans are wired in you can then set the speed control mechanisms to give you even more control over your environment & fine tune the climate controller to your own specifications.
What Are The Benefits?
Using Prima Controller will help maintain a healthy growing environment by ensuring an adequate exchange of air in the grow room as well as maintaining a suitable ambient temperature conducive to rapid & healthy plant growth.
Maintaining consistent optimum conditions in a grow room can only be of benefit & with the assistance of a Prima Controller the grower can now achieve even better results. Maintaining a fresh exchange of air will also reduce the likelihood of any air borne diseases or funguses attaching themselves to the plants or settling in the grow room. Too much heat can result in a less than adequate crop & not enough heat can actually prevent the plants from growing. Can be used in conjunction with the Compugas provided fan cycles are long enough.
Instructions
The Prima Controller is easy to use, simply mount on a wall, follow the instructions provided for wiring in the fans, set the desired room temperature, speed control & place your fans in the appropriate places in the grow room. Some adjustments may need to be made at a later stage to the speed control in order to maintain the optimum temperatures.
Warranty
The Prima Controller is guaranteed against manufacturers defects & to withstand normal use for a period of twelve months, abuse or failure to follow instructions are not covered. Should you experience any problems please contact the place of purchase. A receipt MUST be produced to obtain any warranty work or replacement.
Specifications
Temp range: 14-36°C (2° increments)
Size: 150mm wide × 80mm deep × 110mm high
Summary
A few important features of the Prima Controller:
maintain a healthy growing environment
gives optimum air exchange
maintain optimum air temperature
healthier plants
decrease the risk of fungus & disease attacks
controls both intake & outake fans
remote temperature probe for accurate temperature control
save electricity costs on fans
full 12 month warranty
Notes
Point Of Sale material is available.