HomePage | Faq | Manual | Catalogue | Product Search | Contact Us | Find Us | Order Form | Gallery | Java | Music | Site Search | Affiliates | Site Map | Links
Catalogue: Kits | Systems | Lights | Nutrients | Grow Media | Fans & Filters | CO2 Release Systems | Environmental Controls | Miscellaneous | Pest Control | Literature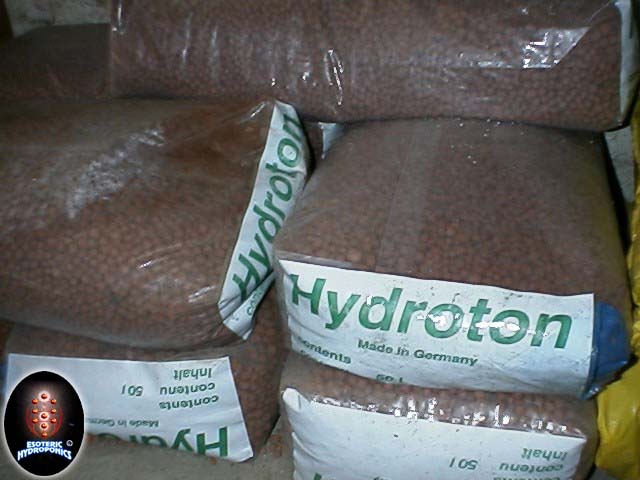 Pictured are some 50 litre bags (45kg) of Hydroton clay pebbles. We often stock more than two tonnes of clay pebbles in our warehouse because we sell so many directly to members of the public and they also form the basis of our acclaimed HydroPod hydroponic system.
Hydroton expanded clay pebbles are manuafactured in Germany and are available in two grades. We only use the largest grade of pebbles: those between 8mm and 16mm. Using the largest grade allows more aeration to plant roots. The largest grade is also lightest in weight - an essential consideration if you are placing a hydroponic system in a loft. Finally, the largest grade is the most durable and easiest to clean. Hydroton clay pebbles are intended to be inert and sterile, although they will absorb some nutrient solution. Before use, all clay pebbles require preparation. Specifically, they should be cleaned. This is easily achieved by cutting a small hole in the supplied bag to allow a hoze to be inserted. Flood a bag and roll it about in your back garden, where the water can escape freely. The objective is to remove stray particles, such as dust, from each bag.
Don't worry if you are already using clay pebbles without cleaning them. Rinsing merely removes dirt, dust and other contamination - reducing the potential of plant diseases becoming established. Just as effective is using high doses of OxyPlus between batches of plants. (OxyPlus has two uses: adding oxygen to water and as an aggresive cleaning agent. High doses of OxyPlus in nutrient solution will kill plants. Failure to rinse properly after cleaning with OxyPlus will also kill plants.)
The bag is perforated like a cracker, to prevent splits in the bag becoming greatly increased, although splits occur anyhow. Do not be alarmed if clay pebbles are supplied in bags that have been taped closed. The specified amount of pebbles will still have been supplied. Regardless, watch out for stray pebbles: they are like stray marbles - and just as dangerous to the unwary. The last thing you want to do in a growroom is trip on stray pebbles.



WARNING! ACHTUNG!
Beware of loose clay pebbles. Slipping on clay pebbles may result in loss of balance, severe injuries, fatalities and / or damage to equipment. Additionally, clay pebbles are small objects - keep out of reach of children.
Beware the way of the pebble - for they are small, unforgiving and fond of kids' nostrils.



See Also
---
HomePage | Faq | Manual | Catalogue | Product Search | Contact Us | Find Us | Order Form | Gallery | Java | Music | Site Search | Affiliates | Site Map | Links
Catalogue: Kits | Systems | Lights | Nutrients | Grow Media | Fans & Filters | CO2 Release Systems | Environmental Controls | Miscellaneous | Pest Control | Literature
Bringing Nature And Technology Together:
Esoteric Hydroponics
8 Martyr Road
Guildford
Surrey
England
UK
GU1 4LF
UK Telephone: 01483 596484
International Telephone: +44 1483 596484
UK Mobile: 07958 698152
Internatonal Mobile: +44 7958 698152
UK Fax: 01483 596490
International Fax: +44 1483 596490
Web: http://www.blunt.co.uk/
EMail: webmaster@blunt.co.uk