HomePage | Faq | Manual | Catalogue | Product Search | Contact Us | Find Us | Order Form | Gallery | Java | Music | Site Search | Site Map | Links
Catalogue: Kits | Systems | Lights | Nutrients | Grow Media | Fans & Filters | CO2 Release Systems | Environmental Controls | Miscellaneous | Pest Control | Literature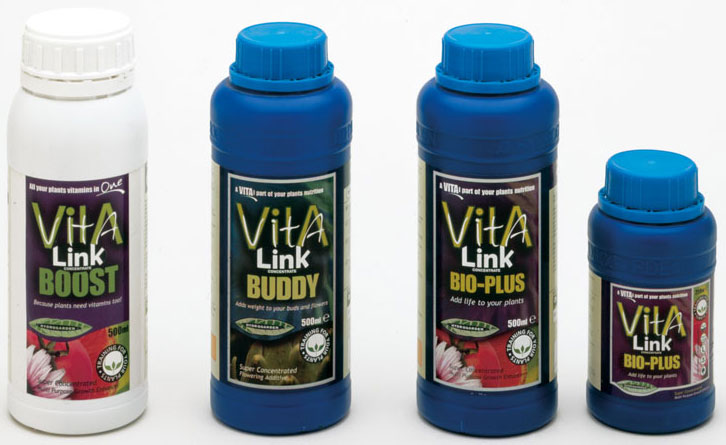 VitaLink Buddy (Boost)
VitaLink Buddy is a flowering booster product featuring phospites as used in the VitaLink nutrients. The inclusion of phosphates in this booster leads to enhanced flower size and greater yield, due to the ease in which the plant can transport this essential nutrient.
VitaLink Bio-Plus
Recommended for use with VitaLink Grow and Bloom nutrients but works great with all brands. Bio-Plus is a concentrated nutrient additive containing a high level of beneficial bacterial products. Use as a all round growth promoter and with VitaLink Grow and Bloom nutrient.
VitaLink Bio-Pak
a dry water soluble biostimulant with nitrogen fixing, prospherous solubilising and growth promoting bacteria. All the bacteria in Biopak also contain proven growth promoting substances, including humic extracts, sea kelp extracts, amino acids and more. Recommended for use with VitaLink Grow and Bloom nutrients and VitaLink Boost, but works well with all brands.
VitaLink Foliar Feed
At Last! A quality foliar feed for the hydroponic market. This product contains a unique range of macro and micro nutrients that are all easily absorbed when applied to the plant. We recommend the use of a wetting agent with this product.
VitaLink Liquid Silicon+
VitaLink Silicon+ enables the grower to add this beneficial mineral to any nutrient solution. Silicon+ produces a stronger plant by enhancing cell structure and also aids the development of root systems. The high pH of Silicon+ enables the product to be used as a pH Up in hydroponics systems.

---
HomePage | Faq | Manual | Catalogue | Product Search | Contact Us | Find Us | Order Form | Gallery | Java | Music | Site Search | Site Map | Links
Catalogue: Kits | Systems | Lights | Nutrients | Grow Media | Fans & Filters | CO2 Release Systems | Environmental Controls | Miscellaneous | Pest Control | Literature
Bringing Nature And Technology Together:
Esoteric Hydroponics
8 Martyr Road
Guildford
Surrey
England
UK
GU1 4LF
UK Telephone: 01483 596484
International Telephone: +44 1483 596484
UK Mobile: 07958 698152
Internatonal Mobile: +44 7958 698152
UK Fax: 01483 596490
International Fax: +44 1483 596490
Web: http://www.blunt.co.uk/
EMail: webmaster@blunt.co.uk