HomePage | Faq | Manual | Catalogue | Product Search | Contact Us | Find Us | Order Form | Gallery | Java | Music | Site Search | Site Map | Links
Catalogue: Kits | Systems | Lights | Nutrients | Grow Media | Fans & Filters | CO2 Release Systems | Environmental Controls | Miscellaneous | Pest Control | Literature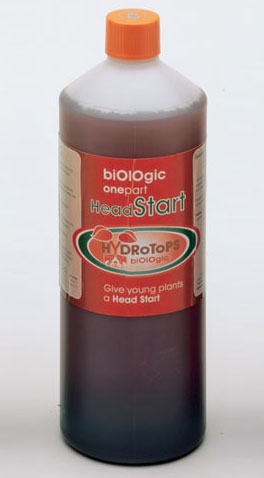 biOpOnic Plant Start is the only full spectrum nutrient concentrate developed with the biochemical and nutritional needs of young plants and cuttings in mind.
Your plants potential yield is governed by the nutritional profile supplied during this critical stage of development. The ratio and form in which nutrients are supplied during the propagation and establishment phase directly affects the plants ability to assimilate nutrients later in life. Growers have traditionally used a half strength nutrient solution during this stage. The main problems with this practice are that:
trace elements are under supplied ( by half ) and that the nutrient profile of the major elements is not at the correct ratio. ( Phosphate and Calcium levels are critical to good root development ). Where trace elements are under supplied or are not available due to nutrient imbalance, the plant adjusts its biochemical processes and restricts its growth rate to the amounts of trace elements available. As the nutrient strength is increased, even though nutrient levels are increased the plant is unable to adjust its intake rate for several weeks. This will lead to deficiencies around the fourth week of the fruiting period.
biOpOnic Plant Start is balanced for the needs of your young plants and cuttings and has trace elements supplied at the correct levels to ensure a smooth and stress-free transition from the propagator to your hydroponic system.
biOpOnic Plant Start builds on the foundations of biOpOnic Bactivator and biOpOnic Root Stimulator to promote the establishment of your young plants with balanced root growth, compact branching and good foliar development.

---
HomePage | Faq | Manual | Catalogue | Product Search | Contact Us | Find Us | Order Form | Gallery | Java | Music | Site Search | Site Map | Links
Catalogue: Kits | Systems | Lights | Nutrients | Grow Media | Fans & Filters | CO2 Release Systems | Environmental Controls | Miscellaneous | Pest Control | Literature
Bringing Nature And Technology Together:
Esoteric Hydroponics
8 Martyr Road
Guildford
Surrey
England
UK
GU1 4LF
UK Telephone: 01483 596484
International Telephone: +44 1483 596484
UK Mobile: 07958 698152
Internatonal Mobile: +44 7958 698152
UK Fax: 01483 596490
International Fax: +44 1483 596490
Web: http://www.blunt.co.uk/
EMail: webmaster@blunt.co.uk