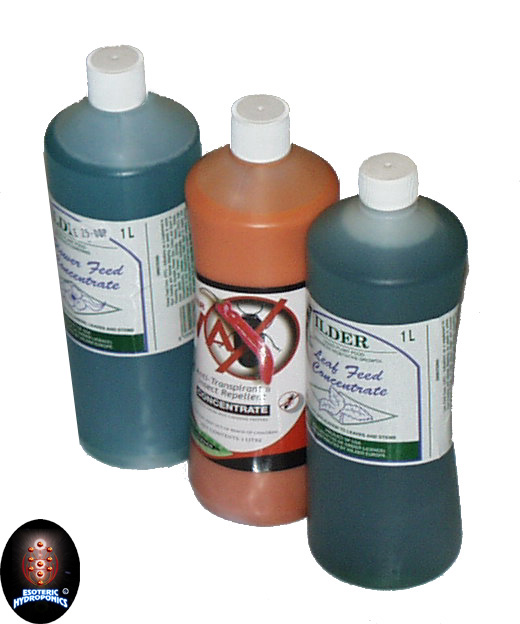 Hot Pepper Wax
One of the problems of running our demo growrooms is that customers who also have growrooms may unintentionally spread pests, such as whitefly. (This also implies that you may unintentionally introduce new pests to your growroom after viewing our growrooms. If this is a problem, we have procedures to minimise potential contamination.) Anyhow, some pests are quite persistant, so pest control has to be effective, with the option to be applied often without poisoning your plants, or the fruit they produce. The ideal solution is an organic formulation called Hot Pepper Wax. This is produced by a US company called Wilder.

Hot Pepper Wax can be frequently sprayed onto plants to kill bacteria, fungus and insects. Essentially, by spraying Hot Pepper Wax, your plants are endowed with the defensive chemicals of spicy peppers. Indeed, spicy flavour in peppers, chillis and root vegetables, such as spring onions and garlic, indicates the presence of such chemicals. The use of Hot Pepper Wax is unlikely to affect the flavour of your plants, unless you use extremely high doses, in which case, you are using way too much spray.

Hot Pepper Wax is an organic foliar spray which is applied to the leaves, stems, fruits and flowers of the plant. Effectively repels and kills red spider mite and aphids, amongst other pests. This 100% organic formulation has proved to be very effective in dealing with pest problems and is recommended.
Flower Feed And Leaf Feed
Wilder Feed is applied in the same way as Hot Pepper Wax, dilute and "foliar" spray directly on the leaves. Adding nutrient to a plant by spraying allows the nutrient to be targetted to specific areas of the plant. For example, Wilder Flower Feed encourages the full bloom of exotic flowers, such as orchids.