HomePage | Faq | Manual | Catalogue | Product Search | Contact Us | Find Us | Order Form | Gallery | Java | Music | Site Search | Site Map | Links
Catalogue: Kits | Systems | Lights | Nutrients | Grow Media | Fans & Filters | CO2 Release Systems | Environmental Controls | Miscellaneous | Pest Control | Literature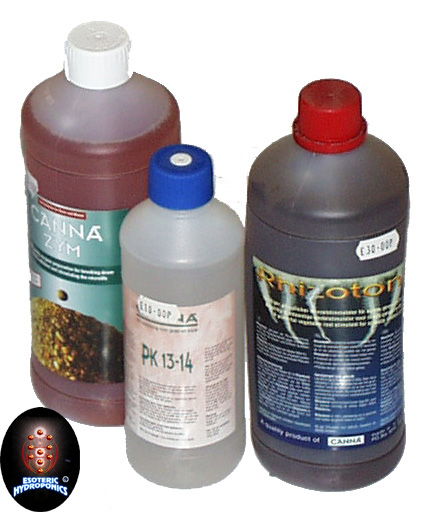 Canna PK 13-14 is a nutrient based additive which is added only once to the nutrient tank in the last three weeks of flowering to aid in the development of abundant floral growth. Contains potassium and phosphate, which are indispensable to plants in the flowering stage.
Cannazym is a clever natural product which breaks down old roots to allow for new, healthier roots to form and maximise nutrient uptake. Cannazym aids this process because it contains vitamins that stimulate the plant to form new roots while helping the plant to break down its old roots. To use: add to your nutrient tank. Easy instructions on bottle.
First and foremost, Rhizotonic is a root stimulator for cuttings. A healthy root system is at the heart of a healthy plant. However, it is also extremely useful for any instance where root growth may require stimulation, such as for plants that need to be re-potted, unhealthy and badly developed plants and for plants that have suffered shock or stress.
---
HomePage | Faq | Manual | Catalogue | Product Search | Contact Us | Find Us | Order Form | Gallery | Java | Music | Site Search | Site Map | Links
Catalogue: Kits | Systems | Lights | Nutrients | Grow Media | Fans & Filters | CO2 Release Systems | Environmental Controls | Miscellaneous | Pest Control | Literature
Bringing Nature And Technology Together:
Esoteric Hydroponics
8 Martyr Road
Guildford
Surrey
England
UK
GU1 4LF
UK Telephone: 01483 596484
International Telephone: +44 1483 596484
UK Mobile: 07958 698152
Internatonal Mobile: +44 7958 698152
UK Fax: 01483 596490
International Fax: +44 1483 596490
Web: http://www.blunt.co.uk/
EMail: webmaster@blunt.co.uk