HomePage | Faq | Manual | Catalogue | Product Search | Contact Us | Find Us | Order Form | Gallery | Java | Music | Site Search | Site Map | Links
Catalogue: Kits | Systems | Lights | Nutrients | Grow Media | Fans & Filters | CO2 Release Systems | Environmental Controls | Miscellaneous | Pest Control | Literature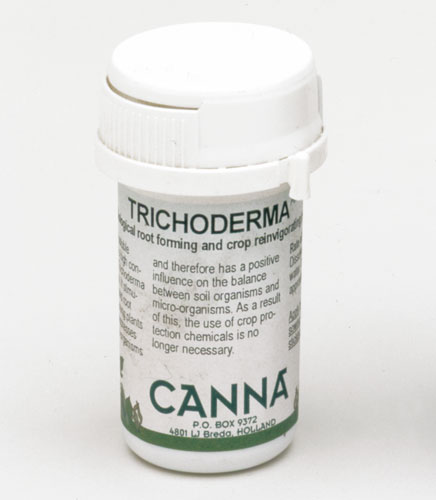 Developed by Canna. When applied just once to fresh seedlings or recently rooted cuttings, Trichoderma in effect coats the roots of the plants with a protective layer of friendly bacteria. This friendly bacteria will grow with your roots providing very good life long protection to your plants against more dangerous bacteria like pythium.
This products works along the same type of principle as a flu jab, exposing your young plants to it makes them more resilient to stronger bacteria it might encounter in the future.
Most popular with the larger grower as a very cheap insurance policy. 10 gram vial is sufficient for approx 300 plants.

---
HomePage | Faq | Manual | Catalogue | Product Search | Contact Us | Find Us | Order Form | Gallery | Java | Music | Site Search | Site Map | Links
Catalogue: Kits | Systems | Lights | Nutrients | Grow Media | Fans & Filters | CO2 Release Systems | Environmental Controls | Miscellaneous | Pest Control | Literature
Bringing Nature And Technology Together:
Esoteric Hydroponics
8 Martyr Road
Guildford
Surrey
England
UK
GU1 4LF
UK Telephone: 01483 596484
International Telephone: +44 1483 596484
UK Mobile: 07958 698152
Internatonal Mobile: +44 7958 698152
UK Fax: 01483 596490
International Fax: +44 1483 596490
Web: http://www.blunt.co.uk/
EMail: webmaster@blunt.co.uk