HomePage | Faq | Manual | Catalogue | Product Search | Contact Us | Find Us | Order Form | Gallery | Java | Music | Site Search | Site Map | Links
Catalogue: Kits | Systems | Lights | Nutrients | Grow Media | Fans & Filters | CO2 Release Systems | Environmental Controls | Miscellaneous | Pest Control | Literature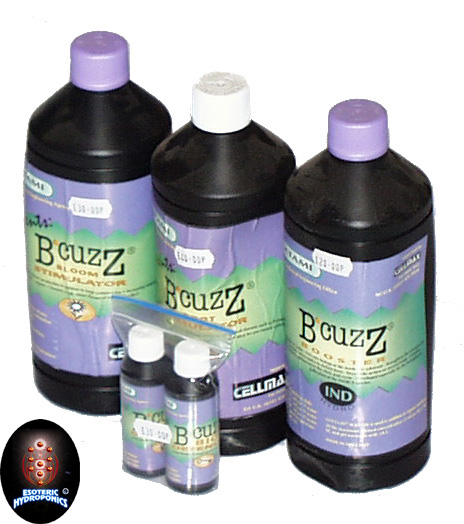 Popular Dutch nutrients and growth enhancers. The BCuzz range is quite unique because product quality is not sacrificed to create a consistant product range. (The BCuzz range of products is probably the most awkward to ensure that the entire product range is stocked, but we manage.) BCuzz products are available as two part nutrients, available in quantities of 1 litre and 5 litre packs, totalling 2 litres and 10 litres. BCuzz additives, such as growth enhancers and the biological plant defence products are available in various quantities, depending upon the intended quantity of use.
When used in ideal conditions, by experienced growers, BCuzz products can greater enhance plant growth. The products produce vigorous, healthy plants, ideal for cloning.
BCuzz Booster is a six in one booster which effectively biologically activates the whole growing process whether in hydroponics or soil. BCuzz Booster is used in addition to your regular fertiliser and is proven to aid the overall growing and blooming process. Full instructions supplied on the bottle. Please contact us to learn more about how BCuzz Boosters can help you. Information sheet available.
BCuzz Bloom Stimulator ensures explosive bloom / fruit production. Increasing output! 100% organic. Ensures a soft, sweet flavour of the end product. Use daily when blooming. Designed to work best when used in combination with BCuzz Booster. BCuzz Root Stimulator ensures explosive root production. Has an inhibiting effect on various soil diseases such as Pythium and Fusarium. Provides cleansing of the dripper system. 100% organic. Also ideal for pre-rooted cuttings; use daily for the first week.
---
HomePage | Faq | Manual | Catalogue | Product Search | Contact Us | Find Us | Order Form | Gallery | Java | Music | Site Search | Site Map | Links
Catalogue: Kits | Systems | Lights | Nutrients | Grow Media | Fans & Filters | CO2 Release Systems | Environmental Controls | Miscellaneous | Pest Control | Literature
Bringing Nature And Technology Together:
Esoteric Hydroponics
8 Martyr Road
Guildford
Surrey
England
UK
GU1 4LF
UK Telephone: 01483 596484
International Telephone: +44 1483 596484
UK Mobile: 07958 698152
Internatonal Mobile: +44 7958 698152
UK Fax: 01483 596490
International Fax: +44 1483 596490
Web: http://www.blunt.co.uk/
EMail: webmaster@blunt.co.uk