HomePage | Faq | Manual | Catalogue | Product Search | Contact Us | Find Us | Order Form | Gallery | Java | Music | Site Search | Affiliates | Site Map | Links
Catalogue: Kits | Systems | Lights | Nutrients | Grow Media | Fans & Filters | CO2 Release Systems | Environmental Controls | Miscellaneous | Pest Control | Literature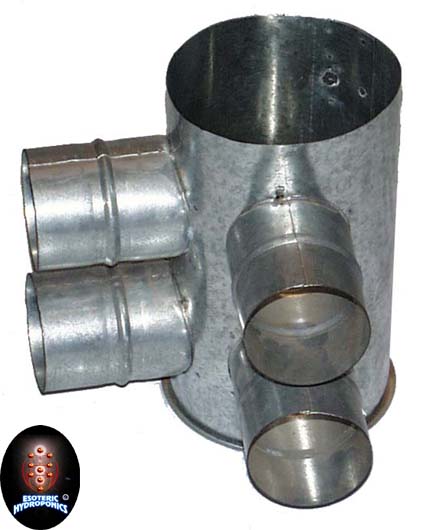 To make air cooled lighting cost effective, spigots are deployed. Air cooled lighting is more efficient than uncooled lighting, but requires an extraction fan to operate. The four way spigot allows four air cooled lights to be connected to one extraction fan.
The benefits of air cooled lighting are many. Air cooled lighting operates at a lower temperature and therefore plants can grow closer without experiencing adverse conditions. (Above a certain temperature, a plant merely sweats, rather than growing.) Air cooled lighting is also allows a more efficient transfer of energy from grow lights to plants, with less losses due to dust and other airborne particles. The reduction in distance also allows plants to be grown in a more confined space than otherwise possible.
The air cooled reflectors have 75mm diameter vents, which is the same diameter as the small inlets of all our spigots. 75mm ducting joins the reflectors and the spigots. (The ducting is sealed using duct tape.) The large outlet of the four way spigot has a diameter of 150mm. This can be joined directly or ducted to an extraction fan, and then possibly a carbon filter. Should your fan, filter and spigot be of differing diameters, we are able to source a range of adaptor rings, although please note that these items are fairly expensive because, unlike other items, they are produced in fairly small quantities.
Spigots are manufactured in aluminium and feature mountings allow the fixture to be suspended by sturdy hanging chain.
See Also
---
HomePage | Faq | Manual | Catalogue | Product Search | Contact Us | Find Us | Order Form | Gallery | Java | Music | Site Search | Affiliates | Site Map | Links
Catalogue: Kits | Systems | Lights | Nutrients | Grow Media | Fans & Filters | CO2 Release Systems | Environmental Controls | Miscellaneous | Pest Control | Literature
Bringing Nature And Technology Together:
Esoteric Hydroponics
8 Martyr Road
Guildford
Surrey
England
UK
GU1 4LF
UK Telephone: 01483 596484
International Telephone: +44 1483 596484
UK Mobile: 07958 698152
Internatonal Mobile: +44 7958 698152
UK Fax: 01483 596490
International Fax: +44 1483 596490
Web: http://www.blunt.co.uk/
EMail: webmaster@blunt.co.uk