HomePage | Faq | Manual | Catalogue | Product Search | Contact Us | Find Us | Order Form | Gallery | Java | Music | Site Search | Affiliates | Site Map | Links
Catalogue: Kits | Systems | Lights | Nutrients | Grow Media | Fans & Filters | CO2 Release Systems | Environmental Controls | Miscellaneous | Pest Control | Literature
Catalogue: Section 1: Hydroponic Systems: Super Charged Turbo Aeroponic Multi Pod(™) Flood and Drain System (no clay).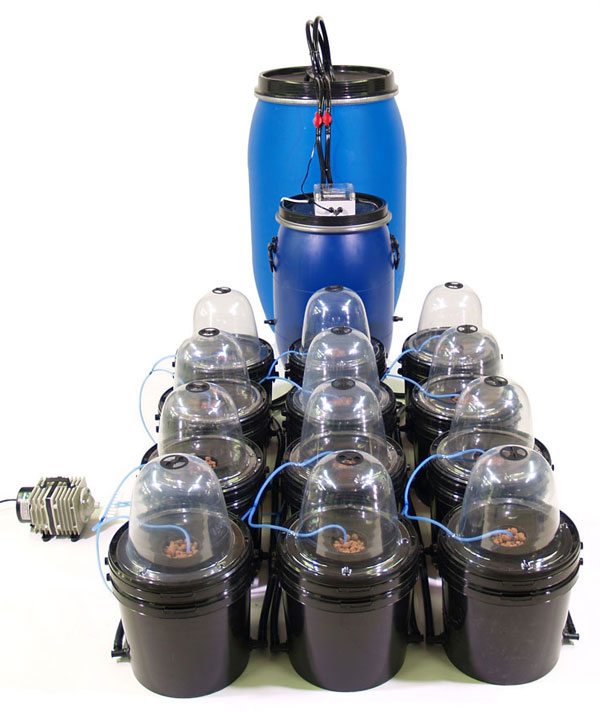 As part of our ongoing product innovation, we have developed super turbo chargers to greatly increase aeration to the root ball. With this optional upgrade, you can increase and accelerate plant growth when your budget permits.

Due to demand and definite lack of supply Esoteric Hydroponics have done it again. (We have invented another winner) >

And if you are yet another shop trying to ride our success by ripping this system off as well all the others we have invented, then be warned and think again, we do have design rights on all our systems and a patent pending on this one so why don't you try and innovate and create on a higher level rather than being the parasitic cheap skate imitators that many of you have become! This to one side they then produce inferior, badly reproduced and ill manufactured copies of our pod system variants. Like bringing out a cover of a single; don't bother unless it is better than the original!

Introducing the brand new Super Charged Turbo Aeroponic Multi Pod™ Flood and Drain System which has already been fondly dubbed The UltraPod™ System. This hydroponic system incorporates all the benefits of the years of research and development that went into the HydroPod™, the DetachaPod™ and the Muti Pod™ systems, but also incorporates brand new technologies and innovation. Merging nature and technology even closer together than before, taking you into the cutting edge of future design and development of hydroponics. If you want state of the art, then this is it! Plus no more horrible clay to wash or get rid of :) reducing running costs and work load to an absolute minimum, all you other imitators stand and weep! cause this one you ain't going to rip.

System includes Super Charged Turbo Aeroponic Multi Pod™ this is a deep trough modular flood and drain system but works off one major water tank for easy maintenance and usability. The system can be expanded at any given time in the future to a maximum of 100 pods. This allows a grower to start small then as time and experience is gained, can then expand the existing system with minimum upheaval. Also inlcludes Super Charged Turbo Aeration System, plus Propagation Pods™ , lids, net pots and very little clay indeed.

These systems represent a hybridisation of all previously invented pod system variants invented, designed and built by Esoteric Hydroponics and encompasses the benefits of all of them in one fell swoop leaving no crease unironed. This is by far the most advanced, user friendly, low/no maintenance definitive hydroponics system on the market to date.
---
HomePage | Faq | Manual | Catalogue | Product Search | Contact Us | Find Us | Order Form | Gallery | Java | Music | Site Search | Affiliates | Site Map | Links
Catalogue: Kits | Systems | Lights | Nutrients | Grow Media | Fans & Filters | CO2 Release Systems | Environmental Controls | Miscellaneous | Pest Control | Literature
Bringing Nature And Technology Together:
Esoteric Hydroponics
8 Martyr Road
Guildford
Surrey
England
UK
GU1 4LF
UK Telephone: 01483 596484
International Telephone: +44 1483 596484
UK Mobile: 07958 698152
Internatonal Mobile: +44 7958 698152
UK Fax: 01483 596490
International Fax: +44 1483 596490
Web: http://www.blunt.co.uk/
EMail: webmaster@blunt.co.uk