HomePage | Faq | Manual | Catalogue | Product Search | Contact Us | Find Us | Order Form | Gallery | Java | Music | Site Search | Affiliates | Site Map | Links
Catalogue: Kits | Systems | Lights | Nutrients | Grow Media | Fans & Filters | CO2 Release Systems | Environmental Controls | Miscellaneous | Pest Control | Literature
AeroponicPod™ System

By Esoteric Hydroponics
A 4 pod aeroponic system with 8 site lids: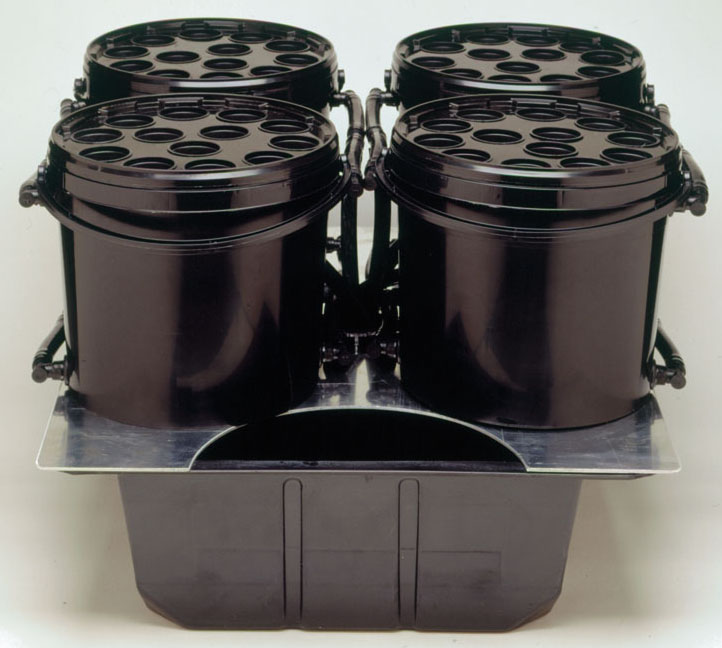 Systems come complete with pump or pumps, two plant site lids, net pots, clay pebbles, rockwool, propagation domes and full instructions. Lengh, width, depth, and tank volumes of the AeroponicPod™ System are the same size as the original HydroPod™ System.
The system now comes complete with propagation domes and due to demand, 2 plant site lids as standard, if you want one plant site lids, or the propagation 8 plants site lids, please state this when ordering.
See Also
---
HomePage | Faq | Manual | Catalogue | Product Search | Contact Us | Find Us | Order Form | Gallery | Java | Music | Site Search | Affiliates | Site Map | Links
Catalogue: Kits | Systems | Lights | Nutrients | Grow Media | Fans & Filters | CO2 Release Systems | Environmental Controls | Miscellaneous | Pest Control | Literature
Bringing Nature And Technology Together:
Esoteric Hydroponics
8 Martyr Road
Guildford
Surrey
England
UK
GU1 4LF
UK Telephone: 01483 596484
International Telephone: +44 1483 596484
UK Mobile: 07958 698152
Internatonal Mobile: +44 7958 698152
UK Fax: 01483 596490
International Fax: +44 1483 596490
Web: http://www.blunt.co.uk/
EMail: webmaster@blunt.co.uk