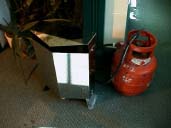 If your grow room gets hot, or the air is stagnant, or your concerned about lack of CO2, then air exchange can resolve the above. By simply extraction you not only keep to the temperatures that the plants love to thrive in but you achieve better air circulation of stale air exhausted of usable CO2. Depending on grow rooms some people extract hot stale air out as well as expelling fresh air in, for complete air exchange, however a sealed grow room using a single extractor can cause a positive pressure, pulling air in from an available inlet. It really is a case of suck it and see. We do offer a complete upgrade service, if you find you bought a fan from us that is to small for your needs, we will part exchange at full price against the price of a bigger one, this applies for all of our equipment. The filters we offer cleans the exhausted air of any unwanted odours that your plants might be producing, they also act as great silencers.
Carbon dioxide (CO2) is essential for plant growth. In an enclosed growing area, as plants use up available CO2, their growth will slow down and may eventually stop. Replenishing CO2 will not only maintain growth but dramatically increase it. The average level of CO2 in the atmosphere is about 350PPM [Parts Per Million]. Through years of agreed upon practice, the agreed upon optimum level is in the 1000-1500PPM range. At these levels it is not uncommon to realise 25-40% increase in yield. In the absence of CO2 enrichment equipment, the common way of replenishing the CO2 content in an enclosed growing area is by an extractor fan. This draws in fresh air and with it ambient levels of CO2.

This really is the easy and effective way to use CO2 injection. The advantage of this kit is that it comes with it's own built in special CO2 timer so that all you need do is tell it the size of your room and it does the rest for you. Designed for small to medium growrooms; use in multiple for large growrooms. Complete with informative instructions and five metres of CO2 dispersion tubing. Requires bottled CO2 (not supplied).
See Environmental Controls for combined CO2 and fan controllers.

Instead of using bottled CO2, which sometimes can be difficult to obtain. This system burns propane gas (available nearly everywhere) to create atmospheric CO2. Like the Unis CO2 Controller, the Growth Gas Generator is supplied with it's own built in, special CO2 timer for really easy and effective injection. Requires bottled propane; not supplied. There is an extensive GrowthTech DataSheet for this product.
CO2 Accessories