HomePage | Faq | Manual | Catalogue | Product Search | Contact Us | Find Us | Order Form | Gallery | Java | Music | Site Search | Affiliates | Site Map | Links
Manual: Intro | Propagation | Nutrients | Growth Enhancers | Lighting | Hydro Systems | Growing Environment | Further Info | Product Docs
Documents: Supplied By HydroGarden: Carbon Filters
Product Description
Unwanted odours are one of the biggest challenges to the indoor gardener. Whether you are growing chilli peppers, orchids or your favorite herbs or spices. Air extraction is a critical element to a healthy growroom / greenhouse and should be used whenever possible. Extracted air from a growroon / greenhouse can often be quite pungent. Utilise a carbon filter to remove any air borne smell associated with your crop. A carbon filter works by using activated granules of charcoal through which the smelly air from your crop is extracted through with the use of an extraction fan (such as our RVK range). Use a Carbon Filter on the inlet side of an extraction fan for odour free air on the outlet.
What Are The Benefits?
Carbon Filters are probably the best way of removing odours from any area as they are machine packed with high quality charcoal. Charcoal has long been recognised as one of the best vehicles for air filtering. Different sizes available for different sized growing rooms. Carbon Filters are easy to install and operate and best of all require no electricity and are quiet to run. Think about using the odour free air to pump warm air (it's always nice and warm in growrooms) into other areas as added heating in winter.
Maintenance / Instructions
The best place for the suspension of a cabon filter is near to the celing and must always be suspend within the grow room or greenhouse, never outside. You will need to attach your filter to a suitable extractor fan. Usually the connection is made using a length of ducting or reducer / connector and ducting tape. Carbon Filters come complete with a fabric sleeve. This is to protect the carbon from dust particles which may damage the carbon and reduce the effectiveness of the filter. It is important to ensure that the fabric sleeve is always fitted. Once the sleeve becomes clogged and black in colour it is time to change for a replacment, which are readily available and inexpensive. If you keep your fabric sleeve in good order the charcoal within will be effective for at least 12 months under normal conditions (in fact the carbon in these filters are known to last as long as 18 months and longer!!!). After this time you may notice a reduction in effectiveness - this is normal but means it is time for the filter to be repacked with fresh charcoal. We now offer a re-fill service where by your filter will be repacked with fresh charcoal.
Note: Ask for a copy of our ready reckoner to ensure that you get the right fan and filter to match your room size. Matching the fan and filter to the room size will help to maintain longevity of your filter and fan.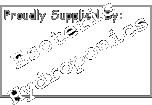 ---

HomePage | Faq | Manual | Catalogue | Product Search | Contact Us | Find Us | Order Form | Gallery | Java | Music | Site Search | Affiliates | Site Map | Links
Manual: Intro | Propagation | Nutrients | Growth Enhancers | Lighting | Hydro Systems | Growing Environment | Further Info | Product Docs
Bringing Nature And Technology Together:
Esoteric Hydroponics
8 Martyr Road
Guildford
Surrey
England
UK
GU1 4LF
UK Telephone: 01483 596484
International Telephone: +44 1483 596484
UK Mobile: 07958 698152
Internatonal Mobile: +44 7958 698152
UK Fax: 01483 596490
International Fax: +44 1483 596490
Web: http://www.blunt.co.uk/
EMail: webmaster@blunt.co.uk