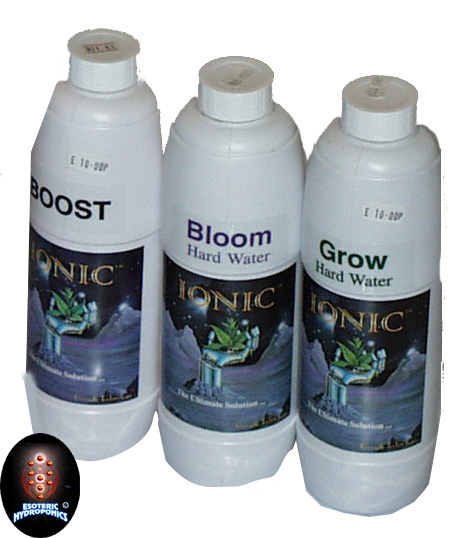 Ionic is a single pack nutrient solution for hydroponic cultivation and as such it represents a major breakthrough in the technology of soiless cultivation. Until Ionic first appeared all serious hydroponic nutrients were supplied as twin packs. This is because the essential elements have a tendency to react with each other in the concentrate producing insoluble precipitates.
Growth Technology has been formulating and manufacturing nutrient solutions since the early 1980s and we have always had the goal of producing a single pack solution without any residue. The project has been ongoing for several years and has involved countless experiments and many setbacks. Finally, however, our senior chemist Carl Barry has developed a completely new process of nutrient manufacture that uses a series of tightly controlled reactions to produce large complex molecules which contain the essential macro elements needed for plant growth in a stable and highly soluble form. This technical breakthrough has many important implications for the hydroponic grower.
Precision - In Ionic, the essential nutrients are bonded together in the exact ratios required by the plant and remain in this highly stable form until they are taken up through the roots. This means that the delivery of essential elements is far more precise than can be achieved with the old twin packs.
Simplicity - In most cases, making up Ionic is a simple matter of adding the solution to the tank in recommended amount. There is only one liquid to worry about and it requires no mixing or shaking before use. This is a big advantage with the larger containers of solution. Nobody likes shaking 20 litre bottles.
Buffering - The complex reactions used to manufacture Ionic create a chemical association known as a complex in which the various elements are held in solution by the interaction of their electrical charges. Careful manipulation of these forces during manufacture results in a very stable pH and for most growers there should be no further need to adjust the pH.
Performance - The delivery of nutrients in a complex rather than simple form is entirely new in hydroponics and the results, in terms of plant performance, will certainly surprise and delight the grower.
Ionic is available in three distinct formulations. Ionic Grow is designed to supply the needs of the plant during the vegetative stage of its growth cycle. Ionic Bloom is dedicated to the fruiting and flowering stage of plant growth, containing enhanced levels of Phosphorous and Potassium, the elements required for development of buds and flowers. Ionic Boost is a special formulation designed to maximise yields from flowering plants in their final stages of growth.
Special formulations are also available for growers in hard water areas.
Directions For Use - To Make Ionic Solution (Grow Or Bloom)
Add Ionic to tap water at the rate of 10 ml per litre. Target EC for most applications is 2.0mS/cm2.
Check pH of final solution. It should be between 5.8 and 6.3. Ionic has a stabilised pH and it should not require correction. If adjustment is needed use Growth Technology pH Up or pH Down and follow instructions carefully.
pH
pH is a measurement of the acidity or alkalinity of a solution. On a scale of 1 - 14 neutrality is represented as 7. The ideal pH for almost all Hydroponic applications is 6. pH for RockWool cultivation should be slightly lower, ideally about 5.8.
Ionic nutrients are especially formulated to ensure that pH is close to 6 when made up with reasonably pure water. Unfortunately water quality varies dramatically from place to place.
You may find therefore that you need to make small adjustments to your nutrient tank from time to time. It is very important to check pH the first time you make Ionic solution. As long as your reading is within the acceptable range (5.8 - 6.3) you need make no adjustments to pH at this time. You should keep a regular check on pH at all times.



WARNING! ACHTUNG!
pH control chemicals are highly toxic and aggressive liquids. Please follow these simple guidelines for safety and peace of mind. Always store these materials in a safe place, preferably in a locked cupboard. Always keep them out of the reach of children. Always wear rubber gloves and protective goggles when handling any aggressive chemicals.



Measuring pH
This is best done with a meter but there are also various kits using liquids and papers available.
Conductivity
The conductivity of a solution is an expression of the capacity of that solution to conduct an electric current. Distilled or de-ionised water will conduct virtually no electricity at all and will therefore have a conductivity reading of zero. As salts are dissolved in the water so the conductivity of the solution increases. The conductivity of a nutrient solution is therefore a measurement of its "strength" as indicated by the actual amount of salts dissolved. Conductivity is usually expressed in terms of CF. CF stands for Conductivity Factor and the units of measurement are usually milliSiemens, microSiemens or Siemens. The difference between these is purely in the placing of the decimal point. There are a thousand microSiemens in a milliSiemen A CF unit is equal to a hundred microSiemens so there are 10 CF units to a milliSiemen.
Ionic Conductivity recommendations
For almost all applications we recommend a Conductivity around 2.0mS/cm2. This will be ideal for passive hydroponics using inert media such as Perlite and GreenMix as well as for active systems such as NFT and Flood & Drain. Ionic can be used at half strength for seedlings and cuttings and also for delicate plants such as ferns and orchids.
RockWool Systems
Plants grown in RockWool slabs need slightly different nutrient regimes than in other systems. pH should be somewhat lower, at 5.8 rather than 6. Conductivity should also be slightly lower than in other applications. It is very important to remember that the readings in the tank may not reflect the reality within the slab. Nutrient should be extracted from the slab regularly for measurement. In a well-maintained system there should not be too much variation between tank readings and those obtained from within slabs. If conductivity begins to rise in the slab it may be an indication that irrigation is either too infrequent or too short. It is necessary to trickle nutrient into slabs for just long enough to get a 10-15% run off. The timer should be adjusted to provide this amount of nutrient at least four times during the daylight period. More frequent irrigation may be beneficial. Remember that as plants grow they will take up much more nutrient and watering cycle will need to be extended regularly throughout life of the crop. The regular check of nutrient from within the slab itself is the most important routine for the RockWool grower. If the conductivity begins to rise then the grower will increase irrigation to ensure run off at each watering cycle. If conductivity remains high then it is a simple matter to flush the slabs.
Directions For Use - To Make Ionic Solution (Boost)
Boost is a nutrient supplement designed to be used in the final few weeks before harvest. Boost allows the grower easy control of the extra Phosphorous and Potassium that can lead to bumper yields. Boost is an ideal addition to Ionic Bloom but it can also be used very effectively with any good quality nutrient solution of the Bloom variety.
First make Ionic Bloom in the normal way. Stir tank thoroughly. Then add Boost to tank at the rate of 1ml per litre. Stir again, check and correct pH and then use nutrient solution in the normal way. Important: Resist the temptation to overdose with Boost. This is a highly concentrated liquid and each 1ml per litre that you add will add 50 ppm Phosphorous and 100 ppm Potassium to your nutrient solution.
Hard Water
Hard water is found in several areas of the United Kingdom, most notably in Kent, East Anglia and the Thames Valley, although there are other regions of hardness. Hard water is characterised by high levels of bicarbonates and it can pose certain problems to the Hydroponic grower.
Hard water usually has a high pH and the bicarbonates need to be neutralised before the pH will come down. The hydroponic grower will usually add Phosphoric Acid (H3PO4) to lower the pH. Normally this is very effective but if the water is hard it will take a large quantity of acid to neutralise the bicarbonates and lower the pH.
This will represent a significant addition to the phosphate level in the solution. As time goes by there will be further additions of acid to the tank to maintain the pH. Phosphate levels will rise and can easily begin to accumulate. High levels of phosphate will affect the uptake of other nutrients, Zinc for instance, and a major nutrient imbalance could occur. Hard water is often characterised by high levels of certain mineral salts such as Calcium and Magnesium. These may also be in excess to plant requirements and will then begin to accumulate in the nutrient tank.
Generally speaking there will be clear signs that your water is hard. Usually you will find that soap fails to produce lather in hard water. There will also be a quick build up of "limescale" in your kettle. If you are not sure you can always ask your water board, they will send you a full analysis which will include a reading for bicarbonates (total alkalinity). Do not hesitate to use the services of your local water board, you are certainly paying enough for them. Any water sample containing more than 150mg/litre of bicarbonates (HCO3) could be considered as hard. You could also take a sample of your water to your local hydroponic shop. They will arrange a full analysis through the nutrient manufacturers, this will include advice as to the best solution for your water. Any competent nutrient manufacturer will be happy to organise a water analysis for you.
If you live in a hard water area, you should use the special Ionic HW formulation, which is available from your hydroponic retailer. The hard water product has a distinctive HW label on the bottle. Unless you have this HW label you have the standard Ionic formulation. If you are not sure if you need a hard water formulation then please discuss with your nearest hydroponic store. Both types of Ionic are available in Grow and Bloom formulations.
Ionic Hard Water solution is more acidic. This is achieved by careful selection of the component mineral salts. A more acidic solution will neutralise bicarbonates on its own. This will reduce the amount of acid needed to control the pH and thus reduce the chance of Phosphate accumulation. Ionic Hard Water solution is also specially formulated to take account of the minerals, such as Calcium, that are usually present in hard water. By lowering these elements in the nutrient solution it is possible to ensure that the final solution is as close as possible to ideal levels of the major elements. This will reduce the problems associated with hard water and allow the grower to maintain his tank for longer periods between changes.
Growing with Ionic HW
Making up a hard water nutrient solution is just the same as making up normal Ionic. Just follow the instructions above. You should not need to add any pH control chemicals at all. If you do find that the pH is still slightly high you will need to add some pH Down to bring it to the desired level of 6. Be careful, it will not require much acid to drop the pH now that the bicarbonates have been neutralised. Just add a few drops at a time, stirring thoroughly until you have a stable reading of 6. Make a note of exactly how much pH Down you had to add to your tank. Next time you will know exactly how much is needed and this will save you time.
You may find that Ionic HW will bring your pH below 6 without any pH Down being added. In this case you will need to add very small amounts of pH Up. Once again just add tiny amounts until you have reached the desired level of 6. Make a note of the amount required so that the operation can be standardised.
NB: If you find that your pH is very low after making up the nutrient solution and requires large amounts of pH Up to correct it then you may well find that your water is not really very hard. In this case you will be better advised to use the standard formulation of Ionic instead.
Special Notice
Ionic is manufactured by a revolutionary process for which patents are being claimed. It produces a clear translucent liquid without precipitation or sediment. However it is possible that under certain conditions there may be a few white crystals in the bottle. These are the end products of the complex reactions used in the manufacturing process and are accounted for in the process. They have absolutely no significance in terms of the formulation and can therefore be ignored.
Analyses & Technical Data
Ionic Grow
Concentrate %W/V
diluted 10ml/litre PPM W/S

Nitrate-Nitrogen
2.4
239

Ammonium-Nitrogen
0.2
22

Total Nitrogen
2.6
261

Phosphorus
0.4
40

Potassium
3.302
330

Calcium
1.3
130

Magnesium
0.32
32

Sulphate
0.40
40

Iron
0.039
3.9

Manganese
0.011
1.1

Boron
0.003
0.26

Zinc
0.003
0.26

Copper
0.0013
0.13

Molybdenum
0.00065
0.065

Cobalt
0.00065
0.065

Nickel
0.00065
0.065

EC at 1:100
2.2mS/cm2

TDS at 1:100
1992mg/litre TDS

% NH4-N
8.5% of total N

pH
5.8 to 6.3

K:N
1.4

Ionic Bloom
Concentrate %W/V
diluted 10ml/litre PPM W/S

Nitrate-Nitrogen
2.3
227

Ammonium-Nitrogen
0.1
9

Total Nitrogen
2.4
236

Phosphorus
0.8
81

Potassium
3.835
384

Calcium
1.3
130

Magnesium
0.32
32

Sulphate
0.40
40

Iron
0.039
3.9

Manganese
0.011
1.1

Boron
0.003
0.26

Zinc
0.003
0.26

Copper
0.0013
0.13

Molybdenum
0.00065
0.065

Cobalt
0.00065
0.065

Nickel
0.00065
0.065

EC at 1:100
2.3mS/cm2

TDS at 1:100
2028mg/litre TDS

% NH4-N
3.8% of total N

pH
5.8 to 6.3

K:N
1.7

Ionic Grow - Hard Water
Concentrate %W/V
diluted 10ml/litre PPM W/S

Nitrate-Nitrogen
1.84
184

Ammonium-Nitrogen
0.03
3

Total Nitrogen
2.0
187

Phosphorus
0.31
31

Potassium
2.40
240

Calcium
0.50
50

Magnesium
0.36
36

Sulphur
0.10
10

Iron
0.03
3.0

Manganese
0.01
0.9

Boron
0.003
0.3

Zinc
0.003
0.3

Copper
0.002
0.2

Molybdenum
0.0010
0.01

Cobalt
0.0005
0.05

Nickel
0.0005
0.05

EC at 1:100
1.9mS/cm2

TDS at 1:100
1593mg/litre TDS

% NH4-N
3.8% of total N

pH
5.8 to 6.3

K:N
1.28

Ionic Bloom - Hard Water
Concentrate %W/V
diluted 10ml/litre PPM W/S

Nitrate-Nitrogen
1.96
196

Ammonium-Nitrogen
0.03
3

Total Nitrogen
2.0
199

Phosphorus
0.62
62

Potassium
3.25
325

Calcium
0.45
45

Magnesium
0.4
40

Sulphur
0.10
10

Iron
0.03
2.5

Manganese
0.01
0.9

Boron
0.002
0.2

Zinc
0.002
0.2

Copper
0.0013
0.13

Molybdenum
0.0005
0.05

Cobalt
0.0005
0.05

Nickel
0.0005
0.05

EC at 1:100
2.0mS/cm2

TDS at 1:100
1770mg/litre TDS

% NH4-N
3.8% of total N

pH
5.8 to 6.3

K:N
1.63