To define a young plant is to refer to a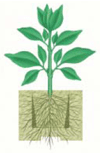 plant that is beyond the seedling/cutting stage but is before the fruit or flowering stage. In a hydroponics system a young plant is predominantly in the vegetative cycle of the plant's growth.
Young plants like seedlings and cuttings are delicate and fragile. The seedling and cutting stage is the most troublesome with regards to stressing or damaging the would-be plant.
Buy the hydroponics book at hydroponicist.com